Klopp: I felt for City after VAR call against Spurs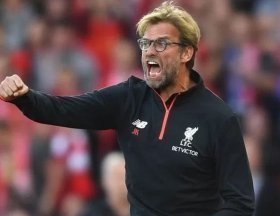 Liverpool manager

Jurgen Klopp

told reporters that he feels sorry for Premier League rivals Man City after a Champions League quarter-final win slipped from their grasp. Klopp could meet the winners of that game Tottenham in the Champions League final.


Klopp sympathised with rival Pep Guardiola after videos emerged of the Spaniard running up the touchline in celebration after a late goal from Raheem Sterling. The goal was later ruled out through VAR and would send Man City out of the Champions League.

Klopp told reporters: "I've no idea, but it was unbelievable, eh? Seeing that I just really felt for them. That's how it is. Everybody thought the ball was in and the whole stadium is celebrating.

"I know some people say without VAR it's a clear goal but it was offside in that moment, nobody really doubts that, but it's tough to take I'm 100 percent sure.

"Big compliments to Tottenham. To score three at City, of course they deserve it. Whether it has an influence on the league I have no idea. We will see that."

Man City will again do battle with Tottenham this weekend in the Premier League, hoping for some revenge over Mauricio Pochettino's side.